China Awards
China is the world's largest producer of pigs, rearing 726 million a year – more than half the world's pig population. Pigmeat is hugely popular, with over sixty percent of all meat produced in China eaten as pork. Since the mid 2000's meat consumption has risen in China and with it intensive production.
For the past few years, Compassion has been working with a government-backed organisation – the International Cooperation Committee of Animal Welfare (ICCAW) – in China to bring higher welfare practices into local pig production.
Part of this programme has focussed on education, sharing information and conducting farm visits. The aim is to show Chinese producers how they can operate a higher welfare pig production system as a successful business, featuring key elements such as free-farrowing, enrichment with straw, and avoidance of mutilations such as tail docking or castration.
This work culminated with the launch of the Good Pig Production Awards in 2014 which recognises Chinese producers for improving pig welfare, food safety and environmental standards.
In November 2015, Compassion presented its second Good Pig Production Awards in London. Read more here.
Nearly 1 million pigs are now set to benefit from all of our Good Pig Production Award winners' commitments and practices.
---
---
Share this page
Who we work with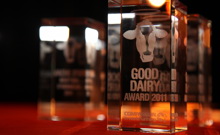 Apply for an award
Award Winner Search