Planet Friendly Award
For more than 10 years, Compassion's Food Business programme has been pivotal in driving change and raising farm animal welfare standards by working in collaboration with leading food businesses around the world.
To date, over 2.5 billion animals are set to lead better lives each year from our food industry partners' higher welfare commitments and practices.
Whilst the transition to higher welfare production systems is important, much more needs to be done to address the current climate, health, and nature crisis. 
Vast and growing scientific evidence calls for a significant reduction in the overall production and consumption of animal protein (at least 50% in high consuming areas) and a transformation in the way in which we produce our food, towards a more resilient and sustainable food system that restores nature and protects animals. 
We have  therefore introduced a new programme of work – Rethinking Food - designed to rebalance the protein in our food system so that significantly fewer animals are produced and those that are, come from higher welfare systems, increasingly moving towards more regenerative, nature friendly farming.
The programme complements companies' sustainability and health goals and aims to help develop a more humane and sustainable food system that is fit for the future.
Compassion's Planet Friendly Award celebrates companies that make commitments to meaningful meat (dairy, fish eggs) reduction targets in their supply, within five years. These targets are set at three levels and awards may be given for significant brands at global, regional and national levels:
Gold – 25% reduction 
Silver – 15% reduction 
Bronze – 10% reduction 
If you have reduction strategies in place and are interested in applying for this award, please contact the Food Business team.
2022 Planet Friendly Award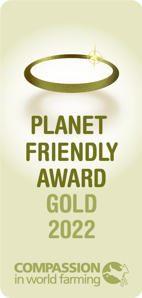 In 2022, Compass Group (UK & IRE) received our first full Planet Friendly Award, achieving a GOLD level for a 2025 commitment to reduce its animal sourced proteins by 25%.
They are truly leading the way, tackling head on the issues of farm animal welfare, protein diversification/meat reduction and a shift towards regenerative agriculture, providing an excellent example for others to follow. 
They have a 2025 global cage-free egg commitment and Better Chicken Commitments in the US and Europe which are raising baseline standards for poultry.
Their Net Zero plan published in May 2021 includes a commitment to switch from animal sourced proteins to 40% plant-based by 2030 (and at least 25% by 2025), and an additional pledge that 70% of their top five food categories will be sourced from regenerative agriculture by 2030.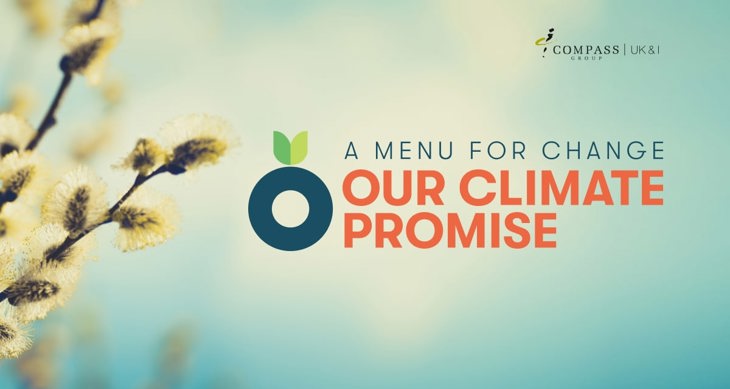 Carolyn Ball, Director for Delivery of Net Zero at Compass Group said: "Successfully reducing our reliance on animal protein is essential for Compass if we are to deliver on our commitment to reach Climate Net Zero by 2030. To be recognised by Compassion in World Farming is to the credit of all those working so hard across the business in pursuit of a just transition."
2021 Special Recognition Award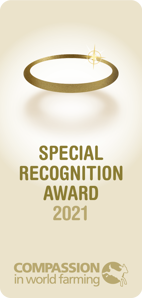 In 2021, leading Italian manufacturer Barilla received a Special Recognition Award under the Planet Friendly Award banner.
Barilla has successfully implemented cage free eggs across its entire global business and they have reformulated some of their products which has led to a decrease in the use of egg as an ingredient.
In 2020, Barilla launched three new biscuits across two of their brands which now contain either no egg or have a lower egg content and a higher percentage of legumes such as chickpeas and lentils, and in the US, they have launched a whole range of pasta with 100% plant-based protein.
Barilla's commitment to reducing the company's environmental impact has resulted in three of its brands offsetting their CO2 emissions completely.
For people, Barilla helps educate children and young people and provides consumers with the tools to make conscious and responsible food choices, inspiring them to adopt a healthy lifestyle.
For the planet, an 8% reduction in the use of egg as an ingredient from 2016 – 2020 has resulted in a reduction of greenhouse gas emissions.
And for the animals, more than two million hens are leading cage free lives and approximately 14% or 332,000 hens have been taken out of their global supply.
Elena Franchi, Raw Materials Purchasing Manager at Barilla said: "We are proud to receive this award, the result of Barilla's constant commitment to animal welfare issues. Thanks to the collaboration with CIWF, we achieved the important goal of globally removing cages from our eggs supply chain; in addition to this, in the last few years we have launched several products with high content of plant-based proteins, reducing the consumption of eggs. And the journey has not finished, we will continue our activities to further improve."
Compassion's Director of Food Business, Tracey Jones said: "Whilst the transition to higher welfare production systems is imperative, growing scientific evidence calls for a significant reduction in the overall production and consumption of animal protein.  Barilla's work to actively reduce egg consumption with the resulting fall in emissions is an excellent example of how this balance can be successfully achieved and deserves to be recognised."