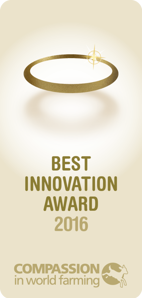 The Best Innovation Award recognises a company that has developed and delivered a successful project that has positively impacted farm animal welfare in a significant way.
The project has to demonstrate commercial success and potential to scale and have already been implemented in practice (i.e. be beyond the research stage).
The winners' submissions for this award are assessed by a panel of judges (including Compassion staff and external stakeholders) and are each awarded points for specific parameters which include the severity of the welfare issue addressed, the potential scale of the impact, and the level of innovation.
The 2016 Best Innovation Award was awarded to Plukon Food Group in the Netherlands for their 'Windstreek Stable' – a new design of broiler shed incorporating multiple features for improved welfare.
Watch the video here...