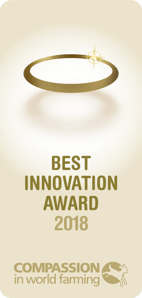 The Best Innovation Award recognises a company that has developed and delivered a successful project that has positively impacted farm animal welfare in a significant way.
The project has to demonstrate commercial success and potential to scale and have already been implemented in practice (i.e. be beyond the research stage).
The winners' submissions for this award are assessed by a panel of judges (including Compassion staff and external stakeholders) and are each awarded points for specific parameters which include the severity of the welfare issue addressed, the potential scale of the impact, and the level of innovation.
The 2018 Best Innovation Award went to SELEGGT in Germany their work in helping to address the issue of killing male chicks in the egg industry - a practice which affects over 5 billion chicks every year. 
SELEGGT has developed an endocrinological method for identifying the sex of hatching eggs before the embryo develops the capacity to feel pain. The male (and unfertilised) eggs can be humanely rejected early on and turned into high-quality feed for farm animals.
Watch the video to find out more...