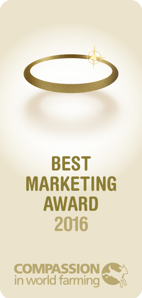 The Best Marketing Award recognises a company that has delivered a marketing campaign that shows real impact, communicates a key farm animal welfare issue and promotes higher welfare products, reaches a wide audience, was conducted over a significant period of time and had a specific outcome.
The winners' submissions in this category are assessed by a panel of judges and are each awarded points for the type of media, the potential consumer reach, the strength of the welfare messaging used.
The 2016 Best Marketing Award was awarded to McDonald's UK for two initiatives; their TV advertising around tree cover for laying hens and their 'Good to Know' campaign.
Watch the video here: