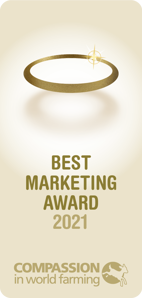 The Best Marketing Award recognises companies that have delivered a successful, creative and far-reaching consumer marketing campaign, communicating the importance of farm animal welfare and promoting products from higher welfare systems. The award also covers marketing initiatives that communicate the need to reduce meat, eggs and dairy consumption.
The winners' submissions in this category are assessed by an expert judging panel and are each awarded points for the type of media, the potential consumer reach, and the strength of the welfare messaging used.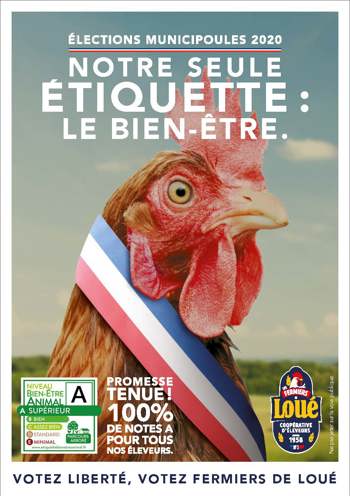 The 2021 Best Marketing Award was presented to French, higher welfare poultry producers, Les Fermiers de Loué, for their innovative and eye-catching street poster campaign, that cleverly linked into the 2020 Municipal Elections in France.
Entitled 'Élections Municipoules 2020' the campaign which took place in Paris and Le Mans mimicked the familiar posters of political candidates, by featuring a chicken as their candidate whose electoral promise was 'Our only label: welfare'.
The campaign was widely publicised on TV, radio and social media and successfully raised awareness of Loué's 'A Rating' for animal welfare and the Method of Production labelling it applies to its products. It also did a great job at successfully getting animal welfare onto the wider political agenda.

Yves de La Fouchardière, General Manager of the Coopérative des Fermiers de Loué said: "This award recognises our desire to "let people know". For us, communication is above all a collective and personal commitment to promote a good cause: animal welfare."
Watch the video to find out more...