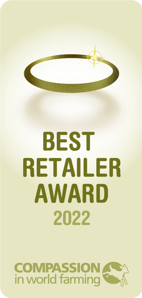 The Best Retailer Award goes to the company that achieves the highest combined score in Compassion's Supermarket Survey.
We score retailers on their answers to questions detailing their policies, rearing conditions of the animals and the measurement of key welfare indicators. 
In 2022, Waitrose & Partners achieved outstanding scores in the Supermarket Survey and was presented with the Best Retailer Award for the fourth consecutive year.
Their constant aspiration to be the best and to do what is right for animals and for their customers makes them true leaders in Europe and they justly deserve the title of Best Retailer.
Waitrose also picked up the Best Retailer Innovation Award in 2022 for developing and implementing the first Qualitative Behavioural Assessment App to measure the emotional wellbeing of animals in the drive to continually improve their quality of life.
In 2019, Waitrose also scooped the Best Retailer Marketing Award making a hat-trick of Retailer Awards for the company in the past few years. Watch their Marketing video here.