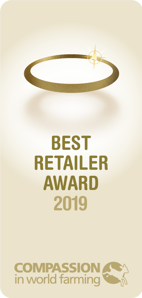 The Best Retailer Award goes to the company that achieves the highest combined score in Compassion's Supermarket Survey.
We score retailers on their answers to questions detailing their policies, rearing conditions of the animals and the measurement of key welfare indicators. 
In 2019, Waitrose & Partners achieved outstanding scores in the Supermarket Survey and was presented with the Best Retailer Award at the ceremony in Brussels. Their constant aspiration to be the best and to do what is right for animals and for their customers makes them true leaders in Europe and they justly deserve the title of Best Retailer.
Waitrose also picked up the Best Retailer Marketing Award in 2019. Watch the video here.
In 2013, the Best Retailer Award was presented to Marks & Spencer. 
Watch the video to find out more...