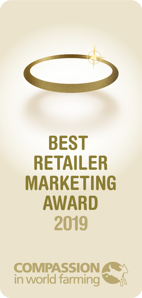 The Best Retailer Marketing Award is presented to the retailer that provides the best example of delivering a successful consumer marketing campaign to communicate farm animal welfare, higher welfare products and/or communicating the need to reduce meat, eggs and dairy consumption, as part of their Supermarket Survey submission.
The winners' submissions are assessed by a panel of judges and are each awarded points for the type of media, the potential consumer reach, the strength of the messaging used.
The 2019 Best Retailer Marketing Award winner for the second time running was Waitrose & Partners, for their consistent and high level of communications on farm animal welfare.
Their latest campaign places their Agriculture and Aquaculture Managers at its heart and through their in-store marketing, explains how Waitrose lives up to its commitments on farm animal welfare and encourages customers to 'Just ask a Partner' to find out more.
Watch the video to find out more...
Waitrose also received the Best Retailer Marketing Award in 2017for their 'Everything we do goes into everything you taste' campaign, focussing on their 120 day dairy grazing pledge, and on their eggs which are all free-range - both shell eggs and the eggs used in the ingredients of their products.
Watch the video to find out more...
In 2015, leading Belgian retailer Colruyt received the Best Retailer Marketing Award for actively promoting their farming systems and welfare standards to their customers using a range of marketing channels including in-store TV and online videos.
Watch the video to find out more...
In 2013, the Best  Retailer Marketing Award was presented to Sainsbury's.
Watch the video to find out more...