Best Retailer Marketing Award
The Best Retailer Marketing Award is presented to the retailer that provides the best example(s) of work to communicate farm animal welfare to the consumer and to promote food products from higher welfare systems, as part of their Supermarket Survey submission.
The winners' submissions are assessed by a panel of judges and are each awarded points for the type of media, the potential consumer reach, the strength of the welfare messaging used.
In 2015, leading Belgian retailer Colruyt received the Best Retailer Marketing Award for actively promoting their farming systems and welfare standards to their customers using a range of marketing channels including in-store TV and online videos.
Watch the video to find out more...
In 2013, the Best  Retailer Marketing Award was presented to Sainsbury's.
Watch the video to find out more...
---
Share this page
Who we work with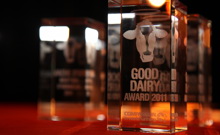 Apply for an award
Award Winner Search