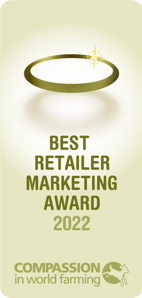 The Best Retailer Marketing Award is presented to the retailer that provides the best example of delivering a successful consumer marketing campaign to communicate farm animal welfare, higher welfare products and/or communicating the need to reduce meat, eggs and dairy consumption, as part of their Supermarket Survey submission.
The winners' submissions are assessed by a panel of judges and are each awarded points for the type of media, the potential consumer reach, the strength of the messaging used and its overall impact.
2022 Best Retailer Marketing Award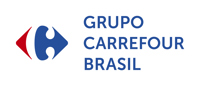 In 2022, Carrefour became the first major retailer in Brazil to be awarded for driving better standards for laying hens.
They not only received a Good Egg Commendation for their cage-free egg commitment, but also scooped this year's Best Retailer Marketing Award for their in-store marketing campaign promoting the welfare benefits of cage-free eggs.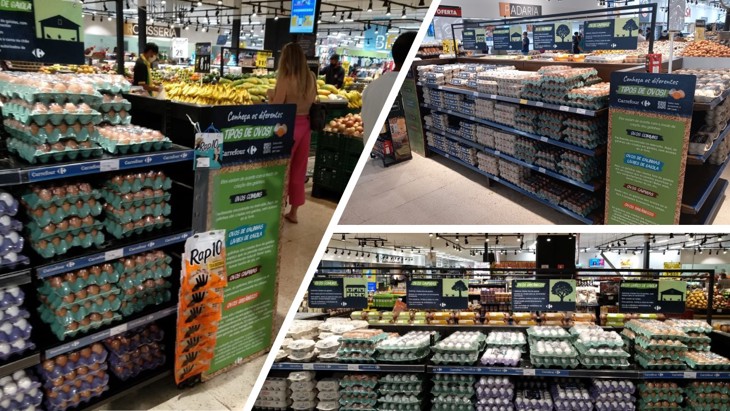 Using in-store posters and radio spots, Carrefour is supporting their commitment to have 100% cage free own-brand eggs by the end of 2025 by taking consumers on the journey with them.
This is an important undertaking in a region where price points on cheap protein make all the difference and most consumers opt for the cheapest option. By teaching consumers about the welfare impacts of caged systems, Carrefour Brazil hopes to shift popular choice towards cage-free eggs instead.
If successful, this move will have a huge impact on the lives of millions of hens in a country where most eggs currently come from caged systems. 
No other Brazilian retailer has done this type of communication before with that level of detail, and as they intend to roll out the communication to all 498 stores in Brazil this will undoubtedly bolster the cage-free move in that region.
Lucio Vicente, Head of Corporate affairs and sustainability at Group Carrefour Brazil said: "In its ambition to lead the food transition, Grupo Carrefour Brazil is committed not only to offer products with higher quality, but also to ensure that the animals from which the products are coming are treated well. That is why we became the first food retailer in Brazil that took the commitment to commercialise only cage-free eggs by 2025 for our own brands.
We are very proud today to receive these two prizes, the Best Retailer Marketing Award, and the Good Egg Commendation. In the Brazilian market, driven by price due to social inequalities, we face many challenges, and it is essential to include all stakeholders to achieve real change. These awards will certainly help us to strengthen these changes, showing that it is possible to offer sustainable products at a fair price."
Watch the video to find out more
Previous Retailer Marketing Award Winners
The 2019 Best Retailer Marketing Award winner was Waitrose & Partners, for their consistent and high level of communications on farm animal welfare.
Their latest campaign places their Agriculture and Aquaculture Managers at its heart and through their in-store marketing, explains how Waitrose lives up to its commitments on farm animal welfare and encourages customers to 'Just ask a Partner' to find out more.
Watch the video to find out more...
Waitrose also received the Best Retailer Marketing Award in 2017 for their 'Everything we do goes into everything you taste' campaign, focussing on their 120 day dairy grazing pledge, and on their eggs which are all free-range - both shell eggs and the eggs used in the ingredients of their products.
Watch the video to find out more...
In 2015, leading Belgian retailer Colruyt received the Best Retailer Marketing Award for actively promoting their farming systems and welfare standards to their customers using a range of marketing channels including in-store TV and online videos.
Watch the video to find out more...
In 2013, the Best  Retailer Marketing Award was presented to Sainsbury's.
Watch the video to find out more...