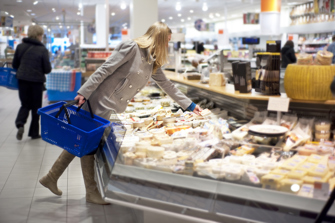 Compassion's biennial Supermarket Survey is open to all major supermarkets across Europe. It enables retailers to benchmark their farm animal welfare performance against their industry peers.
The survey is rigorous and challenges supermarkets to provide detailed company information relating to specific livestock species. The information provided ensures a sound and critical backdrop for ongoing discussions between retailers and Compassion.
Retailers receive a bespoke feedback report on their performance, with suggestions for welfare improvements and marketing and partnership opportunities, as well as a detailed analysis of their individual performance in relation to their competitors.
The Retailer Awards - which stem from the survey results - are a great way to build brand reputation whilst achieving continuous improvement in the area of farm animal welfare.
If you would like to find out more about the Supermarket Survey, please contact: Myriam.Vanderzwalmen@ciwf.org