Special Recognition Award 2015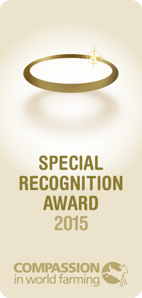 A Special Recognition Award is given to a company for outstanding innovation, leadership, commitment or achievement in farm animal welfare through work in which Compassion has been closely involved.
In 2015, Compassion was delighted to present Unilever with a Special Recognition Award for their largest brand, Knorr. The brand is passionate about bringing quality from 'farm to fork' and has ambitious commitments to source 100% of its raw agricultural materials sustainably by 2020, as part of Unilever's Sustainable Living Plan.
Supported by high level commitment in both Knorr and Unilever, we are now working together towards sourcing its global meat ingredients (chicken, beef and pig meat) for its bouillon stock products from higher welfare systems.
This is a highly ambitious project for which Knorr won our Special Recognition Award in 2015. The Award commends the determination, leadership and clear commitment that Knorr have made in starting a challenging journey to improve animal welfare on such a large global scale.
More than 102 million broiler chickens have the potential to benefit in the future from their commitment.