Special Recognition Awards
Special Recognition Awards are given to companies that demonstrate outstanding innovation, commitment or achievement in the field of farm animal welfare.
Cage-Free Award
In 2017, Compassion launched its inaugural Cage-Free Award to celebrate market leading food companies that are taking the momentous step of ending the use of ALL cages in their supply chain. 
Compassion was delighted to award five companies at the 2017 Awards ceremony in London on 28 June, including:
The Jamie Oliver Group (global)
Pret (global)
Whole Foods Market (US)
Waitrose (EU)
Marks & Spencer (EU)
Find out more about the Cage Free Award criteria here.
Retailer Awards 2017
Compassion also celebrated its Retailer Awards again in 2017, which are based on results of our biennial Supermarket Survey.
Waitrose picked up both the overall Best Retailer Award and the Best Retailer Marketing Award for their 'Everything we do goes into everything you taste' campaign, focussing on their dairy grazing pledge and on their free-range eggs. Find out more and watch the video here.
Tesco received the Best Retailer Innovation Award for their leading work to introduce a humane slaughter system for sea bass and sea bream into commercial practice. Find out more and watch the video here.
Best Innovation and Marketing Awards 2016
In 2016, the Best Innovation Award was presented to Plukon Food Group in the Netherlands for their 'Windstreek Stable' – a new design of broiler shed incorporating multiple features for improved welfare. Find out more and watch the video here.
In 2016, the Best Marketing Award was presented to McDonald's UK for two initiatives; their TV advertising around tree cover for laying hens and their 'Good to Know' campaign. Find out more and watch the video here.
Other Special Recognition Awards
---
---
Share this page
Who we work with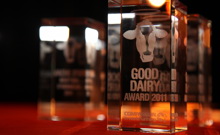 Apply for an award
Award Winner Search