Special Recognition Awards
Special Recognition Awards are given to companies that demonstrate outstanding innovation, commitment or achievement in the field of farm animal welfare.
Applications Now Closed - 2018 Innovation and Marketing Awards
Applications have now closed for this year's Innovation and Marketing Awards for the Manufacturing and Food Service sectors.
The Best Innovation Award recognises a company that has developed and delivered a project that has positively impacted farm animal welfare in a significant way. The project has to demonstrate commercial success and have already been implemented into practice (i.e. be beyond the research stage).
The Best Marketing Award recognises a company that has delivered a significant marketing campaign that communicates a key farm animal welfare issue or promotes higher welfare products to encourage higher welfare purchasing, reaches a wide audience, was conducted over a significant period of time and had a specific outcome.
Companies can apply for one or both of these awards by downloading and completing the following application forms:
If you wish to apply, please complete the application form(s) and return to Nathan.Williams@ciwf.org.uk by Friday 23 March 2018.
Every two years we present our 'Retailer Awards' which are based on our biennial Supermarket Survey results. The next Retailer Awards will be presented at our Awards ceremony in 2019.
Other Special Recognition Awards
---
---
Share this page
Who we work with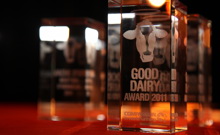 Apply for an award
Award Winner Search