Published 10/06/2015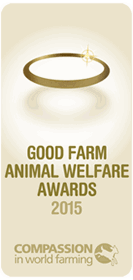 Yesterday (9th June), Compassion held its latest Good Farm Animal Welfare Awards ceremony at the Milan Expo, where leading food businesses from across Europe were celebrated for their commitment to improving animal welfare standards in their supply chains.
The ceremony was kindly supported by the European Commission and hosted by chef, writer and broadcaster, Allegra McEvedy MBE.
Allegra commented: "As someone who has dedicated much of my career to healthy eating and ethical sourcing, I am hugely inspired to see such positive changes in the food chain, due in no small part to Compassion's Good Farm Animal Welfare Awards.
Food companies are now taking an active role in developing supplier relationships that put animal welfare at their heart, and consumers are responding. I am super proud to be part of it, not only as an ambassador for Compassion in World Farming but also as a chef who believes trustworthy, responsibly reared food should be available to everyone... and if we keep up this good work, hopefully it will."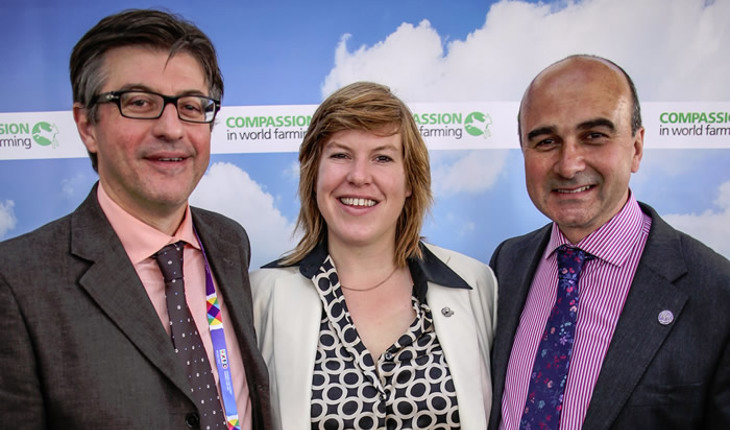 Good Rabbit Award
A first for the 2015 Awards was the presentation of the Good Rabbit Award, newly launched this year. 
Rabbits are the second most farmed species in Europe, the vast majority of which are raised in industrial caged farming systems. Although there is an EU ban on the conventional barren battery cage for laying hens, barren cages are still widespread for rabbits, which can cause severe welfare issues.
Despite the lack of legislation for rabbits, leading food companies are implementing positive changes in their supply chains, often in response to consumer concern.
Compassion was delighted to recognise five leading companies for improving the welfare standards for rabbits in their supply chains.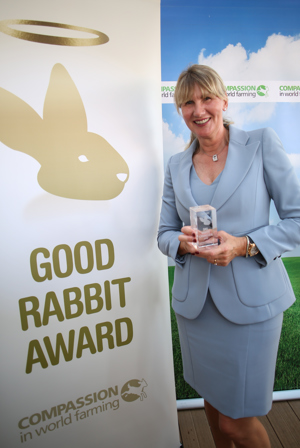 Three European retailers, Kaufland and Real from Germany and Belgian retailer Colruyt, and leading French cooperative and manufacturer Terrena all received Good Rabbit Commendations for committing to move all the meat rabbits in their supply chains from barren cages into open pen systems. These systems provide more space for the rabbits,  allowing better social interaction and more opportunity for behavioural expression such as gnawing on wooden blocks, eating hay, hiding in tubes and under platforms, standing on their hind legs, lying stretched out, hopping and jumping.
German manufacturer BreFood have gone one step further and received a full Good Rabbit Award for also committing to address the welfare needs of their breeding does by looking at group housing, space provision and enrichment provision.
Retailer Awards
2015 also saw the return of the Retailer Awards with supermarket chains from across Europe being celebrated for demonstrating their high standards, marketing initiatives and innovation in farm animal welfare.
Coop Switzerland was presented with the Best Retailer Innovation Award for developing a 'dual purpose' breed of chicken where the female birds are kept to produce eggs and the male birds are reared for meat (instead of being culled as chicks due to their unsuitability for meat production). By doing so, they are tackling one of the most controversial issues in the laying hen industry and Compassion was delighted to recognise their leadership in this area.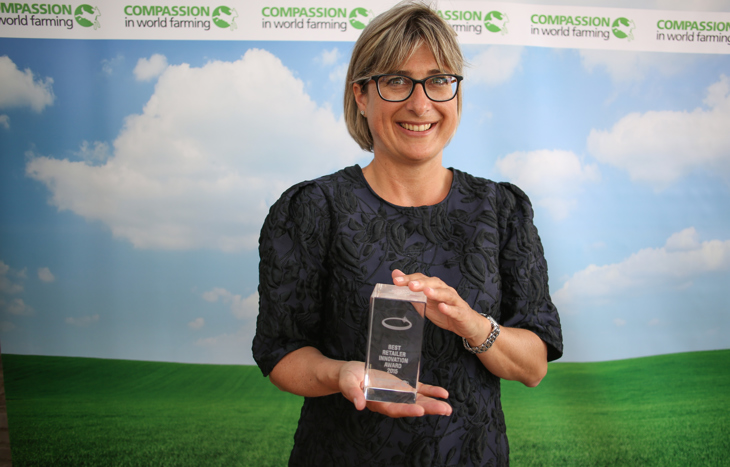 Colruyt Belgium received the Best Retailer Marketing Award for actively promoting their farming systems and welfare standards to their customers using a range of marketing channels including their in-store TV and online videos. Colruyt is the number one retailer in Belgium and has been working to improve farm animal welfare across its supply chain for several years. Their policies already include sourcing cage-free eggs and higher welfare rabbit and they have also taken the decision to ban castration for all pigs in their supply chain.
On receiving their award, Veerle Carlier from Colruyt Belgium said: "Sometimes it is very hard to meet the expectations of welfare standards in practice but there are solutions and there are customers willing to pay for it."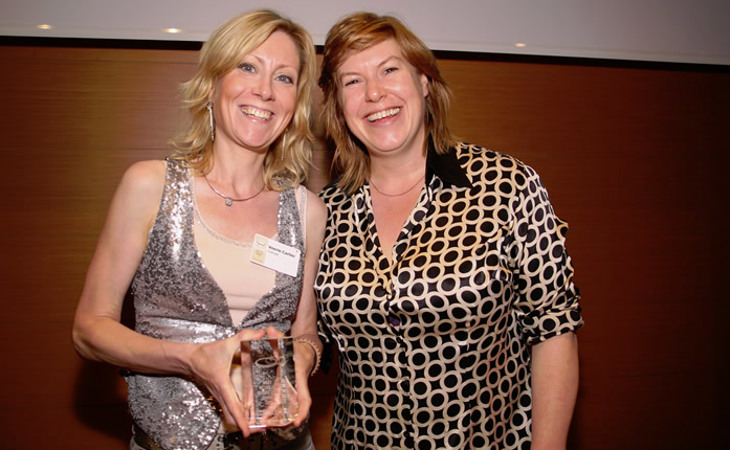 And Waitrose picked up the Best Retailer Award 2015 for achieving the highest score in Compassion's confidential Supermarket Survey. Waitrose achieved outstanding scores on farm animal welfare covering pigs, dairy cows and calves, laying hens and broilers as well as their overall approach to farm animal welfare looking at research, communication and policy. Their constant aspiration to be the best and to do what is right for animals and for their customers makes them true leaders in Europe and they justly deserve the title of Best Retailer.
Special Recognition Award 2015
Unilever received a Special Recognition Award for their largest brand, Knorr. The brand is passionate about bringing quality from 'farm to fork'  and has ambitious commitments to source 100% of its raw agricultural materials sustainably by 2020, as part of Unilever's Sustainable Living Plan.
With progress in sustainably sourced vegetables, herbs and spices well underway, Knorr is now taking a leadership role in the area of animal welfare. This Special Recognition Award commends the determination, leadership and clear commitment that Knorr have made in starting a challenging journey to improve animal welfare on such a large global scale.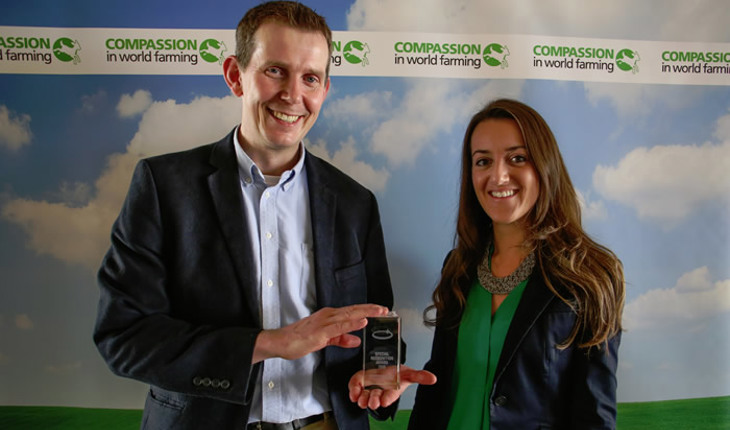 On receiving their award, David Pendlington, Procurement Operations Director at Unilever, extended an invitation to other food companies to join their Knorr team on their journey and remarked: "We've received great support from Compassion but we need help to make transformative changes for animal welfare." 
A first for 2015 was the presentation of awards to US retailer and food service companies.  Whole Foods Market in the US picked up a Good Egg Award and a Good Sow Commendation and Pret A Manger was the first restaurant chain in the US to receive a Good Egg Award.
Elizabeth Fry, in charge of Global Quality Standards for Animal Products at Whole Food Foods Market said: "If we're going to use animals for meat and if we're going to use the reproductive energy of chickens for eggs and dairy cows for milk we're obligated to look after their welfare and we've been taking that very seriously since the beginning."
A total of 41 awards were presented this year and almost 15 million farm animals are set to benefit each year from this year's winners' higher welfare policies. 
Tracey Jones, Director of Food Business at Compassion said "Every year I am so impressed by the commitment and drive of our Award winners to make genuine improvements to the lives of millions of farm animals.  However, it also serves to remind me that there is still a huge amount of work to be done before a true market shift towards higher welfare food takes place.  I'm confident the higher welfare message is spreading globally as more and more businesses realise that there is not just an ethical imperative to address farm animal welfare but a commercial one too."
The messages from our winners this year were loud and clear - we're not perfect, but we want to continue to make improvements to the lives of animals in our supply chain - animal welfare matters. We can't do it alone - supply partnerships and know-how are needed and Compassion can help to facilitate these.
Click here to see the full list of winners.
China Delegation at Awards Ceremony
Compassion was also pleased to welcome back to the stage in Milan some of our Chinese Good Pig Production Award winners from 2014 in recognition of the great work they are doing to improve the lives of thousands of pigs in China.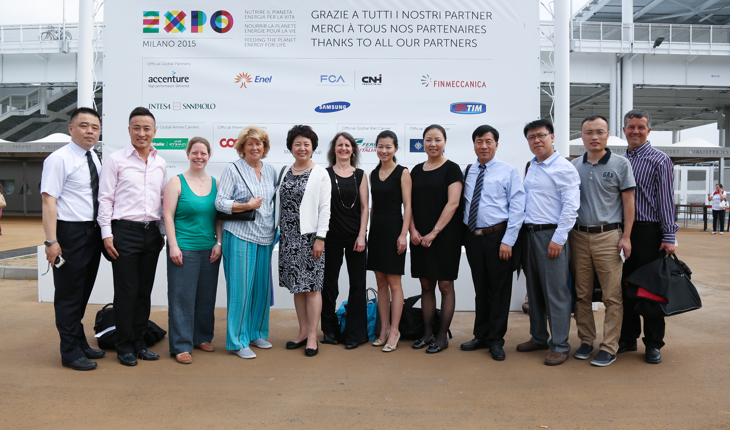 Ms Xi Chunling, Executive President for ICCAW, spoke about the progress that has been made in China on farm animal welfare and working together with Compassion again this year on a new Good Sheep Production Award.