Published 03/11/2015
In the global poultry sector chickens are bred and reared specifically for high egg or high meat production, creating different breeds with different characteristics. Male chicks from breeds reared for producing eggs are deemed unsuitable for meat production due to their slow growth rate and low breast meat yield and are therefore culled.
6.4 billion hens are needed to lay eggs for the global market, and this results in over 5 billion one-day old male chicks being culled annually by the commercial egg industry.
This is one of the most controversial issues in the laying hen industry and Compassion is working with food businesses to promote industry solutions to the problem. Coop Switzerland has started to address this welfare issue by developing a new breed of chicken, the 'Lohman dual', which can be used to produce both eggs and meat, thus avoiding the need to cull male chicks. They have found that the quality of the meat is comparable to standard chicken and its taste appeals to its customers. Watch our video to learn more about how this achievement won them the Best Retailer Innovation Award 2015.
Where the rearing of male chicks for meat is not practicable, the destruction of eggs containing male embryos - before they become sentient (estimated to be at 15 days) - is preferred over the current practice of destroying the day old chicks.
In September 2014, Unilever decided to address this issue and pledged funding support for technologies that would "eliminate the culling of male chicks in the industry" by working with its suppliers to develop in-ovo gender identification.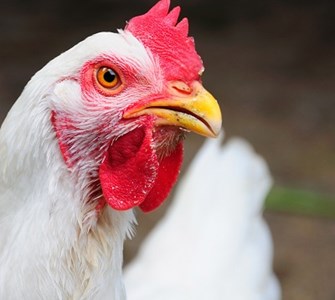 To date, only one, non-invasive method of sexing chick embryos has been reported which involves shining a light through the egg. Unfortunately, this method can only be applied to embryos from breeds with brown feathers, so alternative methods are required for white breeds of chicken which are common in the USA and northern Europe.
The German Federal Ministry of Food and Agriculture has also come out strongly in favour of the work being done at the University of Leipzig into new techniques that will develop spectroscopic sex determination for any breed or colour of chicken. The Ministry is funding this research as a central part of its animal welfare initiative 'A Question of Attitude - New ways for better animal welfare' and plans to have a device available for use in hatcheries by 2017, to help phase out the killing of male chicks.
Tracey Jones, Director of Food Business at Compassion says: "We are delighted the German government is so supportive of the latest research and development in this field. We hear there has been some interest expressed by the Dutch and French governments too. However, it is essential that the food sector plays its part as well.
"Both Unilever and Coop Switzerland are stalwarts of higher animal welfare, leading the way in many areas; their commitment to tackling one of the most controversial issues in the egg industry is just one. Both are addressing it through very different but effective means that we hope will show other businesses the way and help end the unnecessary culling of male chicks in the future."