Published 02/02/2016
Unilever, maker of Hellmann's Mayonnaise, has just announced the addition of a plant-based mayo alternative to its product line in the US.
Consumers are increasingly seeking plant-based options and Unilever's new "Carefully Crafted Dressing and Sandwich Spread" avoids the ethical complications of mayo which traditionally contains eggs.
Each year in the US hundreds of millions of male chicks, considered a 'waste product' to the industry as they cannot lay eggs, are killed soon after hatching.
In September 2014, Unilever pledged funding for technologies that would solve this problem by determining the sex of chicks before they hatch.
"We continue to encourage Unilever's progress on the egg dilemma. Today, they are offering an alternative – a product that doesn't involve hens at all - for those who aren't willing to wait for technology to catch up. It's a smart approach, keeping Unilever ahead of consumers' growing concerns for animal welfare," Compassion USA's director Leah Garces explains.
Hellmann's "Carefully Crafted Dressing and Sandwich Spread" will hit shelves nationwide on February 15, 2016, alongside its USDA Certified Organic mayonnaise containing 100% cage-free eggs.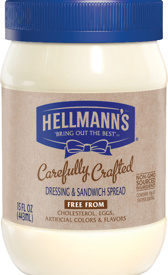 Garces continues, "Today's announcement is a clear indicator that the market is heading towards increased plant-based options as well as higher animal welfare standards. The two go hand in hand for industry leaders like Unilever."
Compassion commends Unilever's ongoing commitment to animal welfare through offering plant-based alternatives and continuing its research to replace inhumane farming practices.